SEMINAR FOR TREATMENT OF SKIN DISEASES using a homeopathic treatment method
Dr.Raj K.Manchanda,
M.D.(Hom), M.B.A.(Health care),
Hony FF (Hom), Faculty of Homoeopathy, UK
Hony Phd, Cyberjaya University College of Medical Sciences, Malaysia
Director AYUSH ( Ayurveda, Yoga & Naturopathy, Unani, Siddha/Sowa-Rigpa and Homoeopathy)
Govt. of NCT of Delhi
Ex- Director General,
Central Council for Research in Homoeopathy,
under Ministry of AYUSH &
Secretary, information & Communication
Liga Medicorum Homoeopathica Internationalis (LMHI)
Former Director General, Central Council for Research in Homoeopathy Under Ministry of AYUSH, Govt. of India
_________________________________________________________________________
Dr. Ameeta R. Manchanda
BHMS (Hons), M.D.(Hom), Gold Medalist.
BHMS from Nehru Homoeopathic Medical College, New Delhi with distinction awarded Honors and Gold Medal in 1988 and M.D. (Hom.) from prestigious Dr. MPK Homoeopathic Medical College, Jaipur, Rajasthan.
Consultant Homeopath in prestigious Holy Family Hospital from 1990 to 1995. Nurtured Homeopathic department in an allopathic hospital, treated many chronic and difficult cases successfully.
Teaching Materia Medica as Honorary Professor, Baksons Homoeopathic Medical College, and Hospital, Greater NOIDA, UP, an undergraduate and post graduate institute of repute.
She owes her success to mentor veteran Homoeopath Late Dr. Kirpal Singh Bakshi, New Delhi, she mastered the art of prescribing and developed rare insight about Materia Medica from him.
Provided support to her husband Dr. Raj. K. Manchanda, presently Director (AYUSH), Govt. of Delhi and was former Director General, Central Council for Research in Homoeopathy, Government of India, in writing famous book" Textbook of Dermatology for Homoeopaths" published by B Jain Publishers, New Delhi. Shared her clinical experiences and useful input.
She regularly practices at Holistic Homoeopathic Family Clinic at NOIDA, New Delhi; she has treated more 15,000 families suffering from various chronic illnesses.
Mobile: +919811646390, +919811012493.
Email: ameetarm@gmail.com
Website: www. Holistichomeopathy.in
Clinics: 1) B 157, Sector 41, NOIDA,
District: Gautam Budh Nagar
Uttar Pradesh, India Pin 201303
2) GF 36/37, Block-K24,
Sector 18, NOIDA,
District: Gautam Budh Nagar
Uttar Pradesh, India
WORKSHOP ON MANAGEMENT OF SKIN DISEASES SHALL COVER THE FOLLOWING:
A) DIAGNOSIS
B) PRESCRIBING
C) MIASMATIC CONCEPT
D) AGGRAVATION CONCEPT
E) COMMON DRUGS AND THEIR INDICATIONS
H) PSORIASIS
I) ALLERGIC DERMATOSIS
Textbook of Dermatology for Homoeopaths
Ramji Gupta / R.K. Manchanda
__________________________________________________________________________________________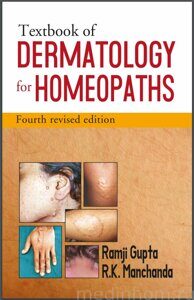 Contents
General principles of Homeopathic Treatment
Miasmatic concept of skin disease
Structure and functions of skin
History and examinations
Hereditary disorders
Naevi
Nutritional deficiencies
Metabolic disorders
Disease due to physical agents
Bacterial infections
Tuberculosis
Leprosy
Fungal infections
Viral infections
Disease due to arthroposds
Diseases of hair
Diseases of sebaceous glands
Diseases of sweat glands
Diseases of nails
Disorders of pigmentation
Allergic disorders
Auto immune disorders
Tumors of Skin
Miscellaneous disorders
Homeopathic Medicines in dermatology
Miasmatic status of Skin diseases
Further reading
Index
Other Books by the authors
MCQs in dermatology and venereology
Text book of dermatology
Leucoderma
Illustrated text book of dermatology
Skin and hair in health and disease

General medical information with some homeopathic therapeutics and notes on miasms in relation to skin complaints.
The publisher:
The book that provides practical application of homeopathy in skin diseases. It includes an in-depth yet easy to read description of all of the common skin diseases well supported with more than 100 colored clinical photographs, which help to illustrate the text including - Hereditary disorders, Naevi, Metabolic disorders, Leprosy, Fungal infections, Viral infections, Tumors, Diseases of the Hair, Sebaceous and Sweat glands, Nails, Auto immune disorders as well as Miscellaneous disorders. It also suggests specific homeopathic remedies for each of the diseases as well as giving general instructions as to their management.
This is an improved edition in which not only the mistakes of the previous edition have been corrected but also better photographs have been provided along with new additions. A sketch diagram of the structure of the skin will facilitate better understanding and detail anatomy of skin has been added. The general principles of homeopathic treatment, details of skin structure, its functions and the approach of history taking in skin diseases in the three chapters will prove extremely useful to both the undergraduate students as well as practitioners. An appendix at the end of the text gives details of some selected homeopathic medicines with their indications, miasmatic analysis, will be useful to the practitioners at large.
- Covers wide array of information on skin diseases
- Original colored photographs of skin diseases included
- Miasmatic concept of skin diseases
- Dermatological conditions with homeopathic therapeutics